Luther and I recently got acquainted with our GoPro. We've had it since 2013, but only in the past couple of weeks have we started playing around with it. Above is our first "masterpiece," shot by Luther along the coastline north of Santa Barbara. Luther likes to dive whenever he gets a chance, he loves hunting for dinner, and he also loves the visuals, as you can see above. This is the visual inspiration for Luther's newest work, "Photosynthetic."
What you see above is one half of "Photosynthetic", the front side of an 18x22" double triple relievo ambrotype encased in a walnut frame, sitting on a walnut pedestal, internally lit with LEDs. Let me unpack that overfull description a bit! Relievo ambrotypes refer to the process of applying asphalt on the back side of an ambrotype only behind the subject matter, and then scraping away the background. Never a common practice, this technique was most popular in England for small portraits, and most often layered on top of another piece of clear glass backed by a white card. Rarely, another ambrotype would be used to back the image. In this case, Luther has layered two relievo ambrotypes on top of an ambrotype: a triple relievo ambrotype. Additionally, this is a two-sided triple relievo ambrotype: a double triple relievo ambrotype. Or at least that's what I'm calling it! It also looks like an aquarium…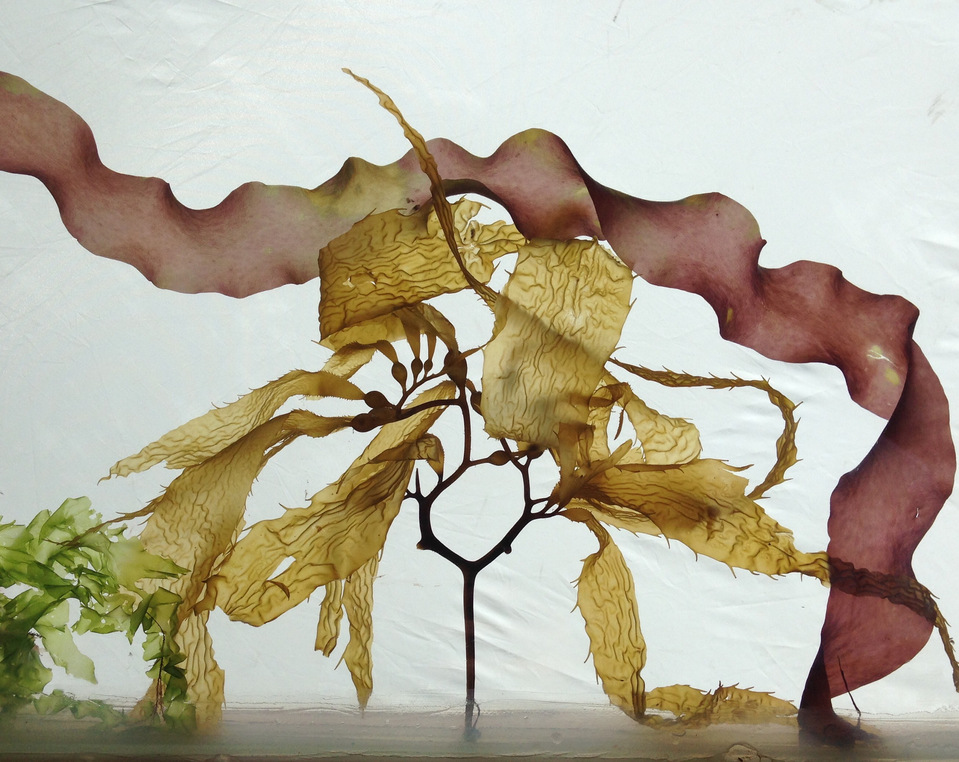 Aquariums have actually played a big role in this project. Back in June, when Luther was shooting these ambrotypes, he used an aquarium he built to get the shots. Above are some of my favorite snaps from one day of shooting, as well as one ambrotype that eventually became the front relievo ambrotype for side 2 of "Photosynthetic" (see the time lapse videos toward the bottom of the page). The idea of recreating aquatic environments comes to us from Luther's childhood. At his childhood home in Minnesota, Luther had literally dozens of aquariums filled with his projects. The whole underwater aesthetic also comes to us from Luther's childhood memories. One memory stands out in stark relief (pun intended): Luther's first scuba dive, at age 10, when Jaques Cousteau strapped a tank on his back and they jumped hand-in-hand into the water in the Florida Keys. I guess it stuck with him!
Below you'll find some adorable intrepid explorer shots of Luther and his siblings in Florida and Minnesota.
And don't miss the budding scientist below.
It's been fun working on a project that has meant so much to Luther, on so many levels, for so long. It's also been a tremendous amount of work. Below is a time-lapse of Luther's work on one of the four (actually five - the cat landed on one) relievo ambrotypes he made for this piece. Four hours of work collapsed into 13 seconds.
In the end it feels worth it, Luther and I are thrilled with the outcome. Relivo ambrotypes are so rare, and they had never been done with this scale, multiple, or subject matter before. Luther relied on a lot of inner vision to realize this piece. Now we just have our fingers crossed that it arrives at its destination at the Howard Greenberg Gallery in NYC in one piece. Not sure if they'll keep it on the rainbow LED setting, but I'm sure it will be a stunner.
By Sophie Philbrick